Introduction of Watch Hospital
Since 2014, Watch Hospital was started with the belief and strong desire of Watch Technician Dang Van Truong. So far, we have had 05 large centers with hundreds of technicians who are well-trained on professional qualifications, skills and expertise and become the most prestigious and quality center of watch repair and training in Hanoi and Ho Chi Minh City.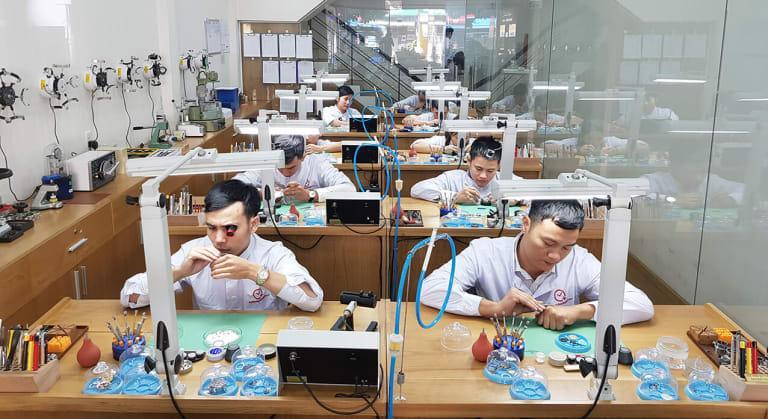 Mr. Dang Van Truong, the founder of Watch Hospital and the entire management team, technicians and staff are constantly striving, exploring and creating to provide good repair services and well-structured and professional training programs. The technicians are intensively trained, advanced skills with state-of-the-art machines. The technical department is equipped with modern machines, up-to-date technology to detect errors, handle the clock lines accurately and effectively.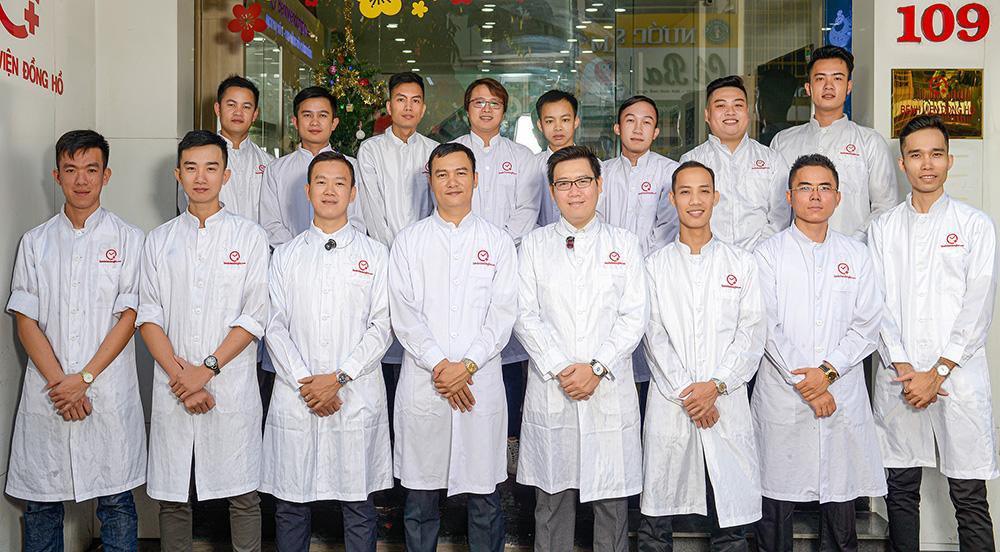 The establishment of Clock Hospital
The idea and aspiration for professionalism.
From the day he started his career of watchmaking, Dang Van Truong always showed himself to be a meticulous, hard-working, inventive and wanted everything to be as perfect as possible.
At a small watch repair shop on Hang Khay street, every day Mr. Dang Van Truong came in contact with several dozen different clock movements. His carefulness, meticulousness and creativity had saved many watches which seemed to have no chance to run again.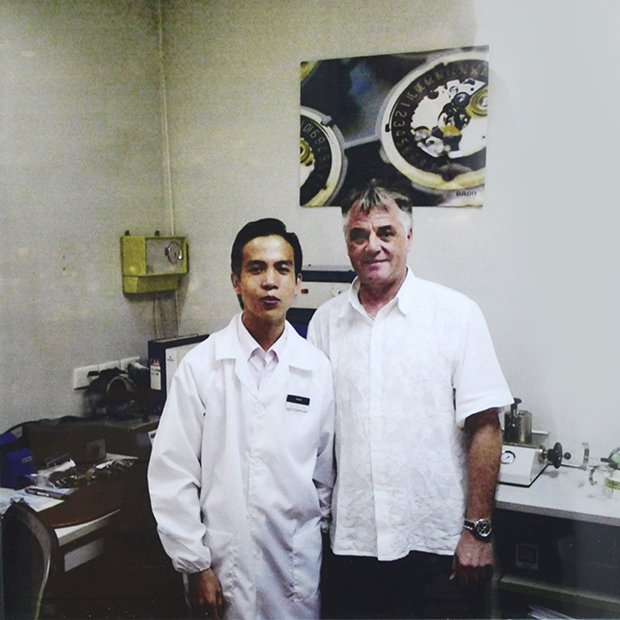 With his talent, Truong was soon recruited to work in Warranty Center for Rado, Omega, Longiness, and Seiko of Tharkral Group. Soon after, he was appointed as the chief technician.
In 2009, as a Chief Technical Officer, he was nominated by Tharkral Group to participate in the Asia-Pacific watchmaker skill contest organized by Omega and achieved the highest score of 79/100. With this achievement, he brought Tharkral Group the honor and the pride for the technical team. Also thanks to this achievement, he was sent by the Tharkral Group to attend the watchmaking training program in Switzerland, during this trip, he was fortunate to be exposed to the way of service, technical processes in the world leading watch companies. Experiencing their good service and standard process, Mr. Truong thought of Vietnam, where good services would offer customers so many benefits. It was from there that he instilled in himself the idea of ​​establishing a service provider like he experienced.
Returning home, he continued to work for Tharkral Group, that was the time when he continued to sharpen his skills, improve his expertise, and also to dedicate to the company which gave him the opportunity to change his mind.
In 2014, starting at a small house in an alley on Nguyen Huu Huan Street – 44B Alley Phat Loc, the Watch Hospital was founded by the beliefs and strong aspirations of the young man, Dang Van Truong.
At the time he quited his job, his relatives and friends thought what he did was not right. Why didn't he want to be a Chief Technical Officer with thousands of dollars of salary, having a position, being respected but to work hard for life? But by faith and determination he still decided to realize his dream of a Swiss Standard Watch Service Center.
In the early days in difficulties of capital, human resources, only operating the store alone, he had to do everything from receiving customers, appraising, consulting, repairing, maintaining, replacing batteries. Though he was alone, he was still decisive in doing and following the process he learned from his trip to Switzerland. He daily worked hard with watches, at night he surfed around big watch forums all over the world to cultivate and share his knowledge. With the love of job and the desire to create the first Swiss-standard service in Vietnam, he worked tirelessly and also began to have his first achievements.
Many watch collectors at home and abroad knew about his skill and the professionalism that he was aiming for. The shop gradually gained more trust from those people who came to learn his apprenticeship and became his companions. So far, these people are on the core team of the Watch Hospital.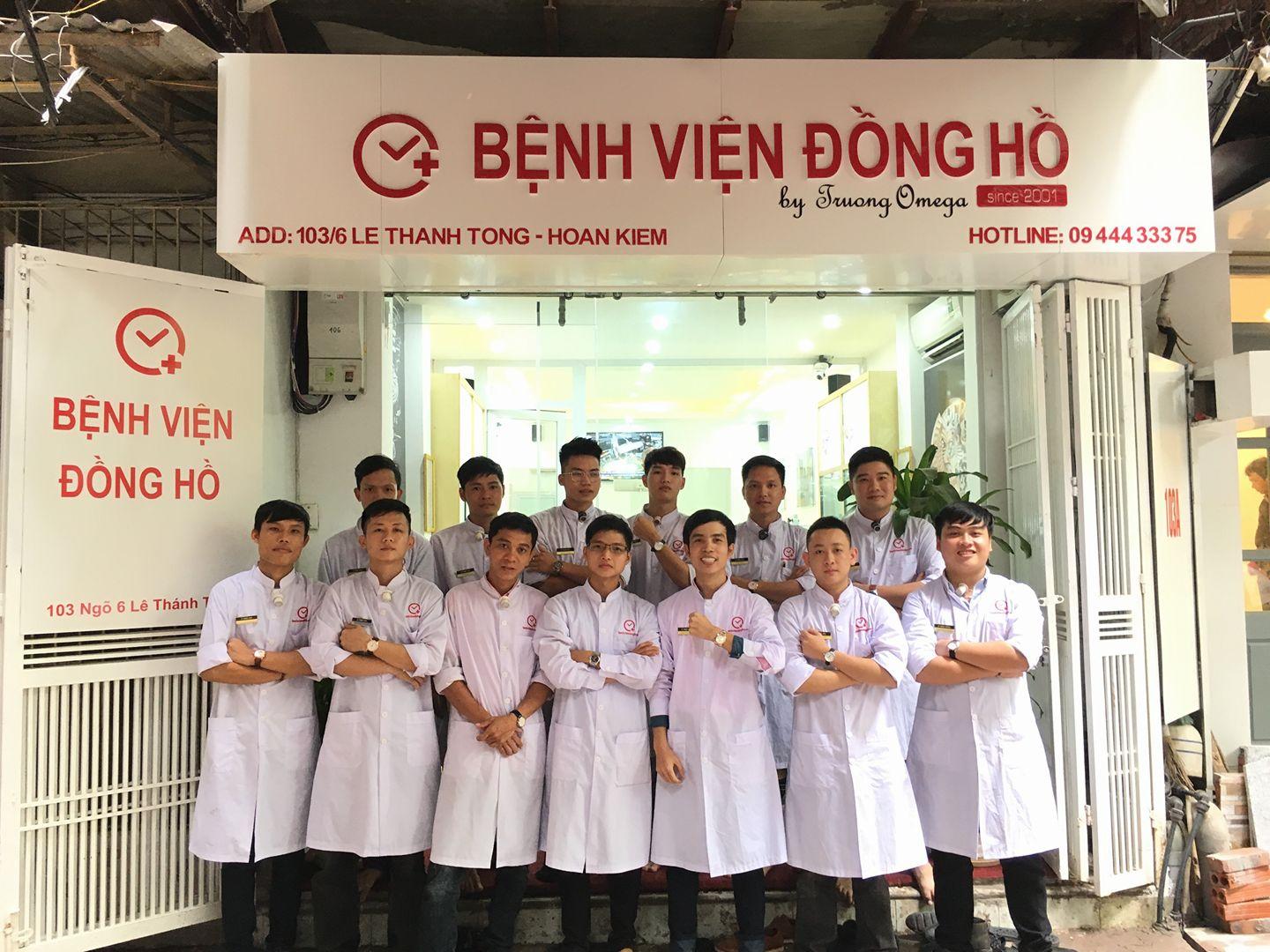 Over 5 years of development, from a small shop, we now have 5 branches in the Watch Hospital system. All branches are equipped with modern machinery systems, following the international standards. Not only that, we also train skilled and professional watch repairer with nearly 100 technicians nationwide.
At Hanoi:
Branch 1: 103A Lane 6, Le Thanh Tong, Hoan Kiem District
Hotline: 0965 359 899
Branch 2: 68A Tran Phu. Ba Dinh District
Hotline: 0981 885 225
Branch 3: 194 Lang, Dong Da District
Hotline: 0968 668 300
Branch 4: 14 Khuc Thua Du, Cau Giay District
Hotline: 0988 56 414
At Ho Chi Minh City:
Branch 5: 109 Dinh Tien Hoang, DaKao Ward, District 1
Hotline: 0972109109
Branch 6: 367 Nguyen Oanh, Ward 17, Go Vap District.
Hotline: 0967 897 367
Branch 7: 476A Tran Hung Dao, Ward 2, District 5
Hotline: 0926 475 476
Not stopping there, we will continue to grow to constantly create greater value for our customers.
Vision of Watch Hospital
"Number-one Service – for genuine watches" is Slogan is also our vision. Benhviendongho.com always put quality on top, reputation is the survival of the business, ensuring the worthy trust of customers, bringing quality services.
Not only that, coming to Watch Hospital, you also experience a professional, fast service style. Dedicated advices come from experienced technicians. Customers will have accurate, effective information, saving time and cost.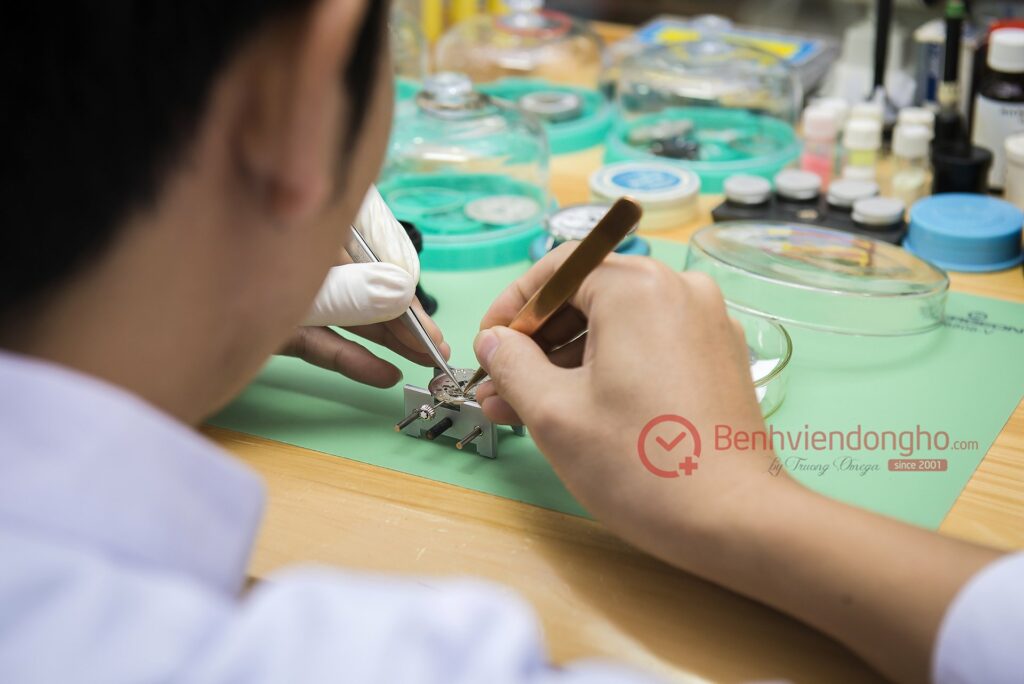 Especially, only at Benhviendongho.com, the repair process is transparent and public.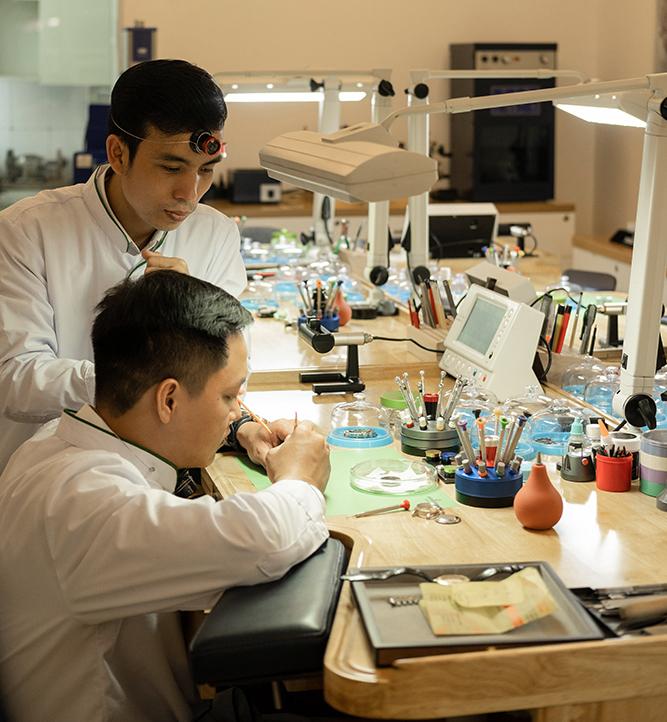 Technical Room is designed with transparent glass walls to help customers following the repairer's activities.
The Core Value Of The Watch Hospital
In order to train qualified workers who are knowledgeable and skilled, from the very beginning, the trained workers have learned about the core values that a worker needs. These values are built by our Experience, Love, Devotion to every customer, every watch.
We believe that if every watch repairer is committed to dedicate to these values, then the craft of watchmaking will certainly be a beautiful profession, creating many values in society, and being respected by society.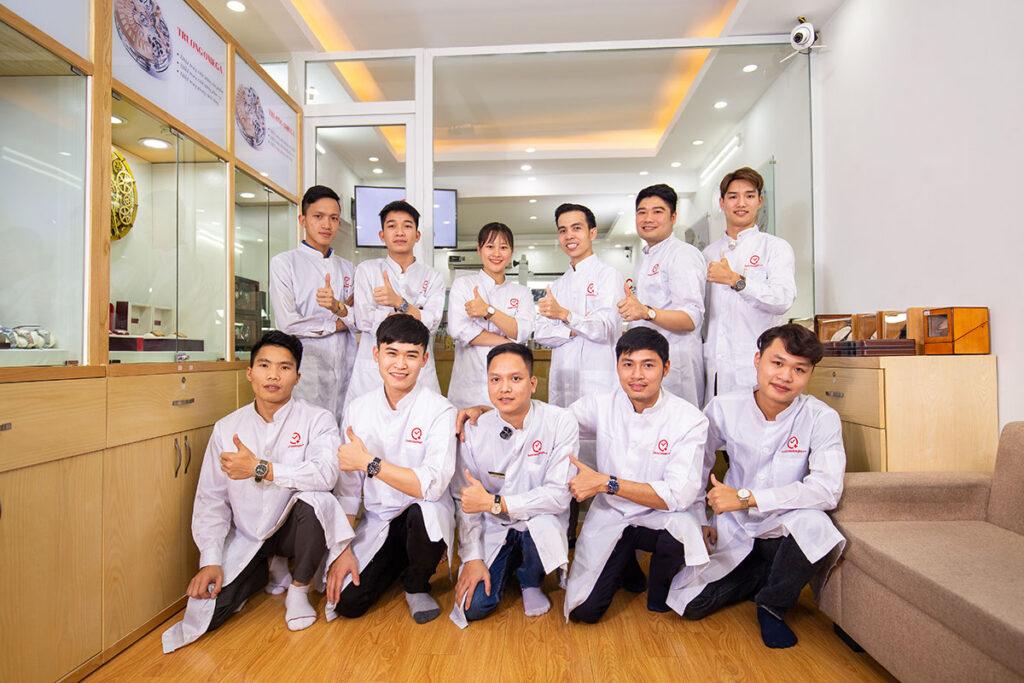 The technical team is well trained from 6 to 12 months➣ The support of international standard imported machines is a very essential part, but mastering the skill of mastering machines and flexibly using machines totally depends on each worker.
Knowledge/Innovation: Watch Hospital considers innovation to be the vitality, the development lever to create unique values in each product and service.
➣ The dedication in every service is embedded by the Watch Hospital's technicians in every product they make themselves. Customer satisfaction is the great motivation to help Watch Hospital growing as it is today.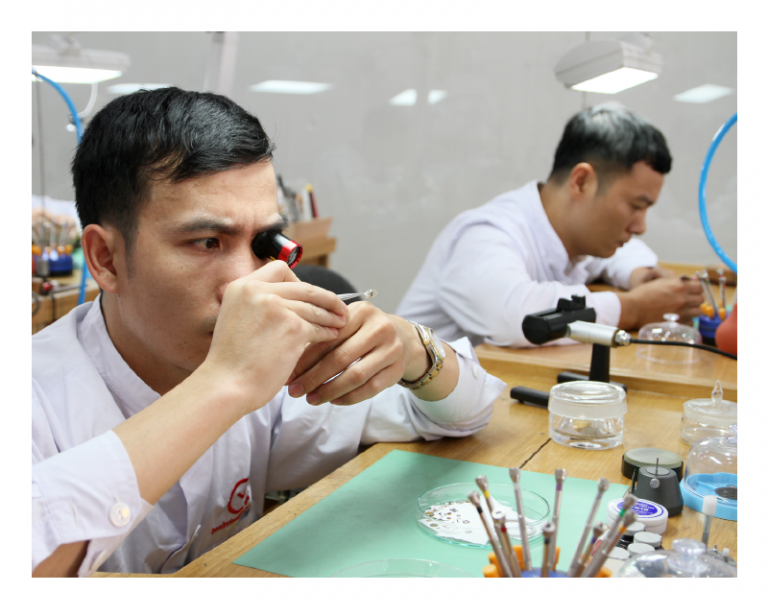 Watch Hospital is responsible for every product we make with an outstanding warranty policy of 6 to 18 months. Our promise to customers is the trust that helps us gain the confidence of our customers.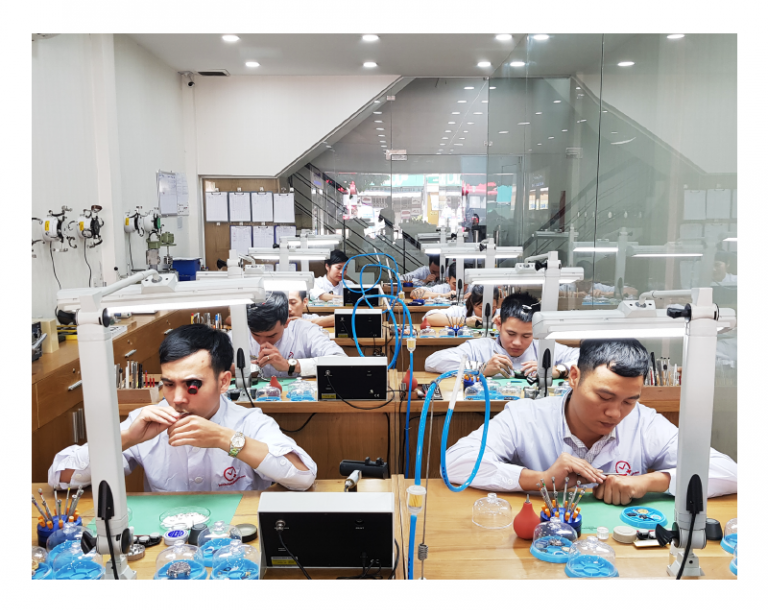 ➣ Improving the quality of technical staff and the quality of products and services over time is what helps us develop and lead in the watch service industry today.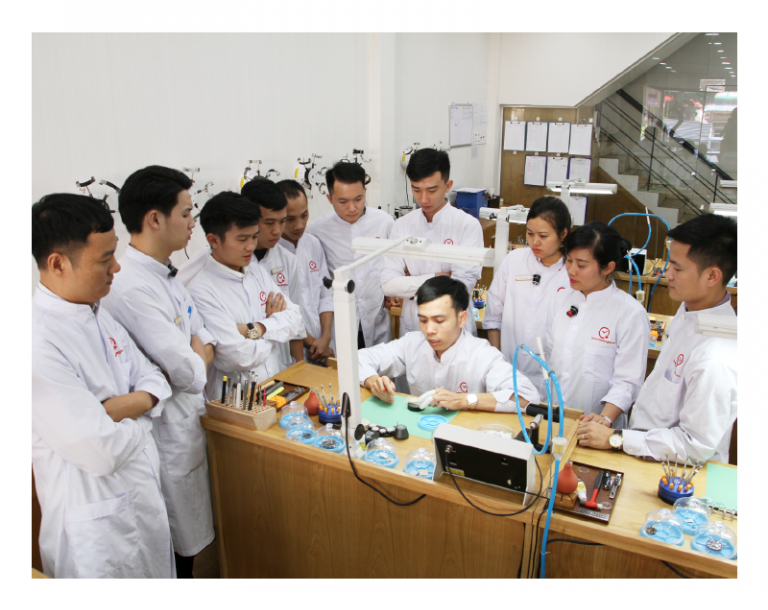 Quality: Watch Hospital always upholds, ensures the quality of products and services. The quality of workmanship of the technicians is constantly upgrading and improving by themselves. Quality control procedures must be fully implemented.
➣ We are a united team, team members act for the common purpose of the team, the team listens to individual opinions. Everyone helps each other to improve day by day. That is the spirit of our team.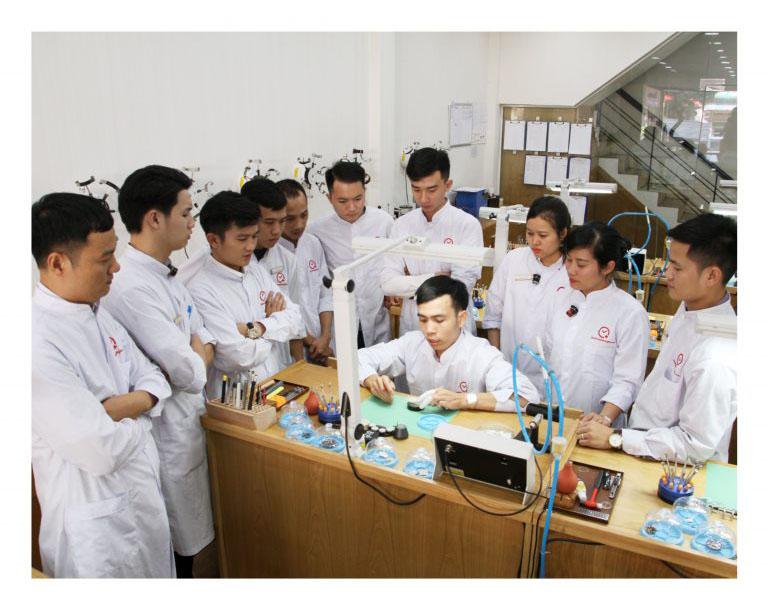 Spirit: The Watch Hospital team is a unified whole. The benefit of each individual is also the benefit of the whole. "listen – question – persuade – respect – assist – share – synchronize".
➣ Team success is built on the success of each individual, being always enthusiastic for work, enthusiastic for customers, enthusiastic for colleagues is what customers can easily feel when coming to Watch Hospital.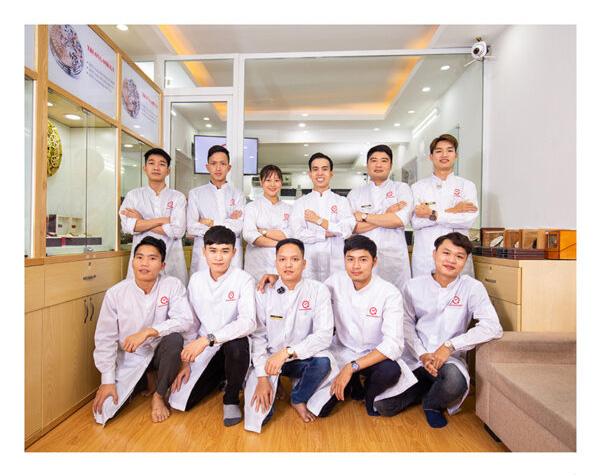 Success: The Watch Hospital team is enthusiastic for what we are doing, enthusiastic for customers, enthusiastic for colleagues, together creating common goals and ideals. The success of the Watch Hospital team is built on the success of each individual.
We were born to create a unique value customers when repairing genuine watches, Watch Hospital hopes to always be the very first destination for customers whenever they want to use genuine watch services such as: Oil Wiping – Maintenance, Battery Replacement, Glass Replacement, Wire Replacement, Repair, Testing – Aligning, Waterproofing.
We are always Dedicated, and Striving to become Vietnamese watchmakers with international-standard craftsmanship, wearing white blouses like watch doctors whose foundation built from word DEDICATION.
Why should you choose Benhviendongho.com to repair your watch?/ Why Benhviendongho.com?
Quality and customer satisfaction are the top criteria we aim for.

Express repair service

Genuine accessories and spareparts, or from the best quality source.

Watch Hospital one of the largest and most prestigious watch repair and training centers in Hanoi and Ho Chi Minh City.

Advanced equipment and machinery with modern European standards.

Dynamic technical squad, professionally trained according to Swiss standards.

Enthusiastic thoughtful receptionist.

Customers are quoted before repairs, reasonable clear transparent prices

Customers can view firsthand the technician handling their watch model.

Good warranty and after-sales service.
There are many customers and famous people who come to experience the service of Watch Hospital are very satisfied with the service quality.